Click Here And Get This Posted To YOU In PDF Format
After reviewing the all-new Hyundai Kona last year as a 2018 model, I was convinced that the Korean brand had found the magic pill for creating a well-rounded subcompact crossover vehicle. After winning the 2019 Utility Vehicle of the Year award this year, the Hyundai Kona has garnered well-deserved recognition among the masses considering how much such a vehicle in a small package offers.
>> Get The Best Price On The Hyundai Kona from a network of local dealers now. <<
The Hyundai Kona plays a secret hand in the games that have become exceptionally popular in America in the form of crossover utility vehicles. Such a vehicle is taking the place of subcompact cars and rightfully so when you factor in its versatility, unique good looks, exceptional warranty offering, surprising performance, and a long list of features and amenities for a respectable price.
In my full review and test drive of the Kona last year, which remains unchanged for the 2019 model year with the exception of adding a couple feature sets to different trim levels and including more safety equipment as standard, it won me over. Granted, I had the top-level Ultimate trim as I do again to remind me how much of a well-put-together vehicle the Kona is.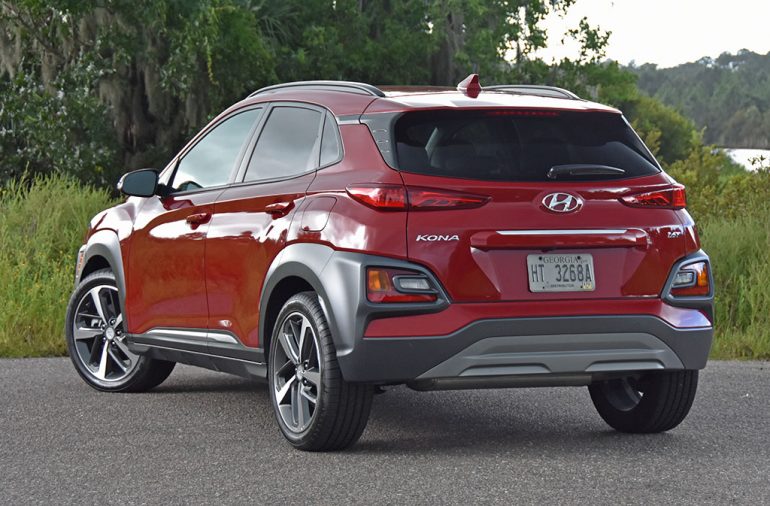 All of my previous sentiments remain in my 2018 Hyundai Kona Ultimate review, which is identical to my recent time with the 2019 model year Kona Ultimate test vehicle. Most of all, the stand-out aspect of the Kona, apart from having a decent-sized list of included features, is the performance of the front-wheel-drive subcompact crossover. The 1.6-liter turbocharged 4-cylinder engine is a gem and feels more powerful than its stated 175 horsepower and 195 lb-ft of torque. Clearly, for lighthearted enthusiasts, the top-trim Kona Ultimate or Limited are the ones to get over the other trims that come equipped with the less-powerful 147 horsepower and 132 lb-ft of torque 4-cylinder engine.
The FWD version of the Kona Ultimate with the more-powerful engine gets 28 mpg city, 32 mpg highway, and 30 mpg combined, which is about 2 to 3 mpg more than the AWD version of the same vehicle.
Having the chance to experience the front-wheel-drive version of the new Kona over the all-wheel-drive test vehicle of last year, it appears that both have lively drivetrains, but the front-wheel-drive seldom exhibits a bit more wheelspin than I would like. However, the wheelspin, somewhat contained by the stability and traction control, is not much of a deal-breaker considering you save a little money. My FWD Kona Ultimate test vehicle costs $28,605 versus the $29,775 price tag of the AWD version.
In addition to this quick review, I welcome you to check out the full review of the new Hyundai Kona Ultimate here.
>> Get The Best Price On The Hyundai Kona from a network of local dealers now. <<
Read more: automotiveaddicts.com