Click Here And Get This Posted To YOU In PDF Format
Looking for a sweet holiday treat that you can prepare at home? Or maybe you want to make a healthy holiday candy to give away to your friends and family. My peppermint bark recipe contains antioxidant-rich dark chocolate and cocoa butter; plus, its festive colors, that are naturally made with beet juice and spirulina, will definitely get you into the holiday spirit.
I love baking with dark chocolate. I've used it in a number of recipes, like my dark chocolate coconut clusters recipe and my gooey chocolate crinkle cookies recipe. Good quality dark chocolate that's 75 percent cacao or higher is an excellent source of antioxidants that help to protect you from disease-causing free radical damage and early signs of aging.
My peppermint bark recipe also calls for cacao butter, which is high in antioxidants like polyphenols and flavonoids and contains several types of healthy fatty acids.
So if you're looking to prepare a healthy holiday candy this season, try my peppermint bark recipe. I promise, you won't be disappointed!
A Healthier Holiday Candy
I bet you don't often think about how a holiday candy can improve your immunity when you take that first bite. Well, this peppermint bark is not only delicious, it can also help you to potentially reverse disease, fight infections and reduce signs of aging. Pretty amazing, right?
There are a few key ingredients in my peppermint bark that are working to make you healthier. Dark chocolate, coconut oil and cocoa butter contain powerful antioxidants and healthy fats. Eating these foods can help you to fight infections, prevent cardiovascular issues and boost your energy levels.
Plus, I use maple syrup as a natural sweetener, and beet juice and spirulina as natural food dyes, so there's really nothing artificial about this peppermint bark. You can enjoy a piece of this delicious candy without feeling the typical guilt that comes with indulging.
Peppermint Bark Nutrition Facts
One serving of this peppermint bark recipe contains roughly the following: (1, 2, 3, 4, 5)
543 calories
3 grams protein
53 grams fat
14 grams carbohydrates
2.6 grams fiber
8.6 grams sugar
1,322 IUs vitamin A (57 percent DV)
0.4 milligrams copper (51 percent DV)
0.6 milligrams manganese (35 percent DV)
57 milligrams magnesium (18 percent DV)
2.9 milligrams iron (17 percent DV)
86 milligrams phosphorus (12 percent DV)
0.9 milligrams zinc (11 percent DV)
0.11 milligrams vitamin B2 (11 percent DV)
1.3 milligrams vitamin E (9 percent DV)
5.5 micrograms vitamin K (6 percent DV)
0.15 micrograms vitamin B12 (6 percent DV)
31 IUs vitamin D (5 percent DV)
0.18 milligrams vitamin B5 (4 percent DV)
2.2 micrograms selenium (4 percent DV)
204 milligrams potassium (4 percent DV)
35 milligrams calcium (4 percent DV)
0.35 milligrams vitamin B3 (3 percent DV)
0.02 milligrams vitamin B1 (2 percent DV)
Here's a quick glance at some of the top health benefits associated with the ingredients in this peppermint bark recipe:
Peppermint oil: Taking small amounts of peppermint oil internally can soothe digestive issues (like irritative bowel syndrome), fight infections, reduce inflammation and improve mental focus. It has a cooling effect on the body and is often used for its expectorant activity, which means that it can help to clear your sinuses and relieve cold and cough symptoms. Plus, did you know that just the scent of peppermint oil can reduce hunger cravings? If you are using peppermint oil internally for this recipe, be sure to use a high-quality oil that's 100 percent pure grade. Otherwise, the oil shouldn't be ingested and you can use peppermint extract for this recipe instead. (6)
Cacao butter: Did you know that cacao butter is the fat source that's used to make chocolate? It's a healthy fat that's extracted from the cocoa bean, and it's loaded with antioxidants. Using cacao butter in your recipes can help to boost your immune system, reduce inflammation and improve the health of your heart. Plus, the antioxidants in cacao butter help to fight signs of aging and can improve the health of your skin. (7)
Dark chocolate: When it comes to choosing a sweet treat, dark chocolate may be your healthiest choice. That's because good quality dark chocolate contains disease-fighting antioxidants that improve the health of your heart and may even help you to prevent cancer. Plus, some other awesome dark chocolate benefits include its ability to improve your cholesterol profile and brain function. (8)
Spirulina: Spirulina is a blue-green algae that I use as a natural green food coloring in this peppermint bark recipe. Instead of using synthetic food dyes, spirulina benefits are pretty remarkable. It promotes the detoxification of heavy metals, reduces LDL cholesterol levels, lowers blood pressure, reduces your risk of stroke and boosts your energy levels. (9)
How to Make This Peppermint Bark Recipe

To begin preparing your peppermint bark, you'll need a double boiler over medium heat. Melt 3 cups of cocoa butter, 2 tablespoons of powdered coconut milk, 2 tablespoons of maple syrup and about 5 drops of peppermint oil.
Let the ingredients come together. This is your white chocolate mixture. Next, you'll divide it into three bowls so you can add the natural food coloring.
In one of your white chocolate bowls, add 1 tablespoon of powdered spirulina.
Mix the spirulina in thoroughly until you get your desired green color and it's evenly distributed.
Next, pour the green white chocolate mixture into a dish that's lined with parchment paper. Then place it in the freezer for about 15 to 20 minutes.
Now you'll take your second bowl of white chocolate and begin making your red white chocolate.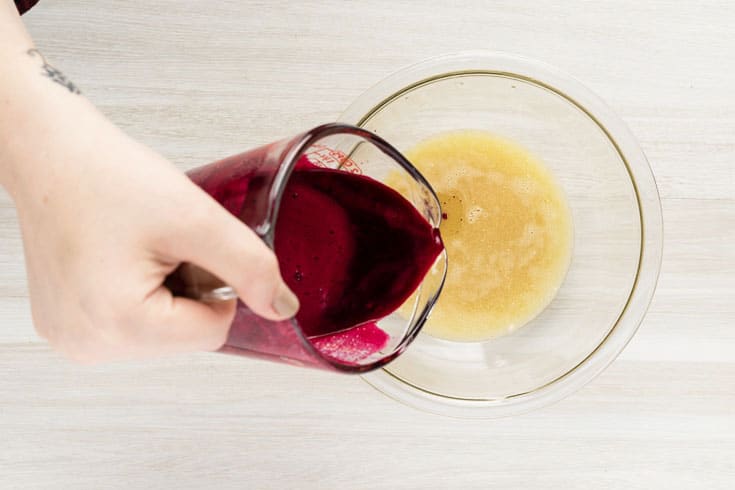 Add 1 to 2 tablespoons of fresh beet juice to your white chocolate. Mix it until you get your desired red color and it looks even. If you want the red to be deeper, just add a little more beet juice.
Then add your red chocolate to a dish lined with parchment paper and leave it in the freezer for 15 to 20 minutes.
While you are waiting on your red and green chocolate mixtures, you can begin prepping your dark chocolate mixture. Add three 3-ounce dark chocolate barks (that are at least 75 percent cacao) to a double boiler. Then add 1 tablespoon of coconut oil, 1 tablespoon of maple syrup and 5 drops of peppermint oil. Combine.
Once the ingredients are melted and well-combined, pour the dark chocolate mixture into a lined baking sheet and spread it out evenly.
Then pour the remaining white chocolate on top of the dark chocolate mixture. If necessary, reheat the white chocolate so that it spreads over the dark chocolate.
Now you can take the red and green chocolate mixtures out of the freezer. Using a knife, break up the red chocolate mixture. You want to make small pieces that will be sprinkled over your peppermint bark. Then do the same thing to your green chocolate mixture.
Finally, you get to sprinkle the red and green chocolate pieces on top of the dark and white chocolate. Coat the dish evenly with the red and green pieces. Then place the dish in the freezer for 15 to 20 minutes or until it's completely solidified.
When it comes out of the freezer, break the chocolate apart so it makes about 10 to 15 servings. Enjoy your festive and delicious peppermint bark!
The post Easy Peppermint Bark Recipe: A Festive Holiday Candy appeared first on Dr. Axe.
Read more: draxe.com