Click Here And Get This Posted To YOU In PDF Format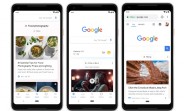 Google loves renaming things over and over again, and today is a new example of that. The service previously known as Google Feed is now Google Discover. The company says the new moniker better reflects the service's mission, which is to help you uncover fresh and interesting content about things you care for.
Discover can be found inside the Google app for Android, and in a special pane to the left of the leftmost home screen on Pixels, Android One devices, and Sony smartphones. It's also coming soon to the Google.com mobile website.
New features are built in too, like the topic…
Read more: gsmarena.com