Click Here And Get This Posted To YOU In PDF Format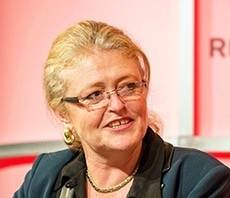 Laura Sandys of the Energy Data Taskforce explains how the energy industry and policymakers should learn from the food and IT industries and embrace a more consumer-centric approach to decarbonisation
"Build back better, build back greener, build back faster" said the Prime Minister in his speech, ahead of Rishi Sunak proposing new green measures to accelerate the journey towards net zero.
This is great news and we absolutely need to accelerate green investment to deliver a Net Zero energy system. However, it's not just about bolting on more "stuff" for the sake of it, and we must be careful that we build an energy system that is smart, efficient, productive and democratic – designed for the 21st Century not embedding the 19th Century model.
Net Zero is actually the greatest policy driver for turbo-charging productivity – we can, if measures are designed for a modern economy, get more for less money, help reduce fuel poverty, improve customer choice, and cut emissions. This is the Decarbonisation Dividend!
Energy decarbonisation is the key to Net Zero journey – without decarbonised energy we cannot expect industry, transport, and homes to come along the journey. We have had remarkable success squeezing these new green technologies into a fossil fuel energy system – contrary to many fears, it hasn't collapsed, and the lights haven't gone out. But shoehorning a totally new system into the old fossil fuel paradigm cannot go on for much longer as the cracks in our outdated energy system are beginning to show. We have torecognise that Net Zero is not an evolution but a transformation away from the energy system of today centred around "ramp it up Johnny" gas fired power stations. If we force renewables to behave like fossil fuels we will miss out on the DecarbonisationDividend.
There are two undervalued components for the transformation of our energy system – adding value to the low value commodity – and what consumers can do to optimise the system. We have a lot to learn from other sectors – both food and data – for a greaterunderstanding of the potential roadmap to a modern energy system.
Firstly we need to recognise that value in the new system sits not just in the creation of energy itself, but in what you do with that electricity once it's generated. While wind and solar might have a low commodity value (as measured by the old system) and is perishable, it is what you then do with it that adds the value. In food the key to the supply chain is refrigeration of all sorts, sizes, and technologies – in trucks, at large depots, frozen food, and in our kitchens. Learning from food, in energy we need to ensure that we don't waste those low value commodities, with storage right across the energy system key to driving value inthe system.
To capture this value in monetary form, the rules and regulations of the energy system need to be much more aggressive in unlocking "refrigeration", supporting cheesemakers not just milk farmers, if we are not to have energy's versions of milk lakes and butter mountains.
Most importantly, we need to unlock the power of energy consumers – households, businesses,and industry. By spending as much policy and regulatory time focused on what should happen at the plug socket as it does on generating, we will truly be able to unlock a modern, efficient, and yes, cheaper, energy system. New assets and actions, such as the smart use of data, solar panels, electric vehicles, domestic and industrial scale storage, and the Cinderella of the energy system – energy efficiency – can drive new levels of productivity. But – and it's a big but – only if new rules and regulations recognise, value and fairly reward this productivity, assigning it to consumers. To date what the consumers do attracts very limited reward.
However, these new smart assets aren't cheap – solar panels on your roof will cost you £8,000 – as much of a reach for a household as £1.5bn is for an offshore wind developer. So we need the government to design policy to enable consumers to manage those up-front costs and stop putting barriers in the way of new fun products and services which will make the user experience affordable, desirable, and simple. We can create small power stations in every locality by unlocking these distributed assets, resulting in a true democratisation of the energy system.
If we don't start looking at the energy system from the plug not the power station, restructuring our rules and incentives accordingly, when we come to decarbonise heat we will end up with power surges and infrastructure expenditure that dwarfs current electricity daily peaks and costs. We must optimise the utility of this new commodity, otherwise butter mountains, and significantly higher system costs will lie with the consumers bearing the brunt.
Energy is on a similar journey that computers went on – from mainframe computers to the PC – where all data services are now designed around the customer not the system. Yes, we have national data centres and super computers, but they are optimised and shaped by what end user wants which has unlocked really exciting innovation. Energy needs to focus on the user.
So let's build back greener – but also more productively – building the big stuff like large scale wind and solar quickly, but also building lots of the smaller stuff for businesses and households, to truly capture the Decarbonisation Dividend.
Laura Sandys, CBE, is chair of the Energy Data Taskforce and co-chair of the IPPR Environment and Justice Commission.
She is a former Conservative MP for South Thanet
Read more: businessgreen.com