Click Here And Get This Posted To YOU In PDF Format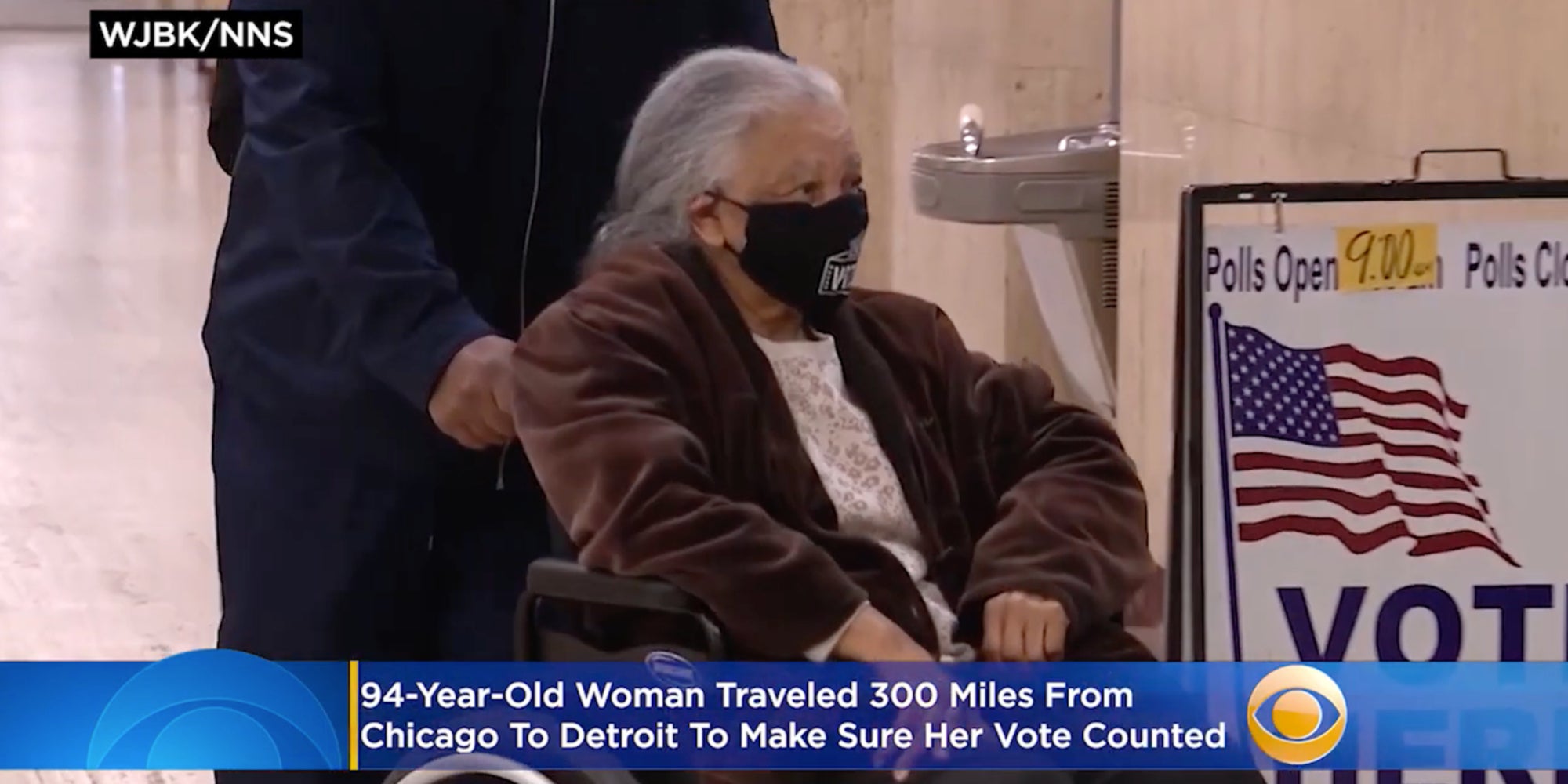 A 94-year-old Michigan woman says she has yet to receive her absentee ballot, so she traveled 600 miles round trip to vote early and in person. People online are labeling the viral story "depressing" and "disheartening" rather than "inspiring."
Mildred Madison told CNN she's voted in "every election"—local, state, and national—for the past 72 years, so she wasn't about to miss out on what she referred to as "the most important vote that we've ever had." Madison lives in Detroit but requested her absentee ballot be sent to Illinois, where she is staying with her son due to the pandemic. Madison said she has yet to receive the ballot and wanted to make sure her vote counted.
"I said I had better go back to Detroit and make sure that I vote," Madison told CNN Monday. "I'm glad I did because I haven't seen a ballot yet."
Julian drove his mother about 330 miles each way so that she could vote.
"At least I made it," Madison, who has a history in activism and politics, told CNN. "I made it and voted for the people I wanted to vote for, and I hope they win. But I felt satisfied that I was not going to miss voting."
People who came across the story on Twitter are upset that Madison had to travel such a long distance and vote in person during a pandemic, which is disproportionately impacting senior citizens.
"This is not a feel good story. this is a f*cking shame. no one should have to do this," one user wrote.
Many others are calling it "voter suppression."
"An elderly woman traveling 300+ MILES EACH WAY just to vote in the middle of a pandemic where she is high risk is another case of voter suppression. Nobody should have to do this, this is not what accessibility looks like," the Black Voters Matter Twitter account wrote.
How are y'all in the comments going "wow inspirational" like this is something to be proud of. No way this woman should have to travel miles upon miles just to vote https://t.co/XpXJq0NivL

— ㋛Homosexual㋛ (@THEEDeezumaki) October 21, 2020
what kind of dystopian ass reality do you have to live in to react to a story like this with "wow! 😍". this is not normal https://t.co/xDMarmyl9i

— medusa's gf (@isapphic) October 21, 2020
This is not heartwarming. This is VOTER SUPPRESSION. https://t.co/GUkjwOfmwF

— NYAAAAAAAAH!-tintheface (@Notintheface1) October 21, 2020
These stories are depressing. https://t.co/g51VY4NyEJ

— Coretta Scott Key (@CorettaScottKey) October 21, 2020
Is this supposed to be a "feel good" story? Call it what it is. A 94 year old woman had to travel 600 miles plus just to vote because of voter suppression. https://t.co/6m8Yj0XRTJ

— JOIFROMTEXAS (@BTG_Joi) October 21, 2020
*taps mic* this isn't inspiring its suppression https://t.co/TUA3cjxYtR

— Lonelyfans Kev (@drumandbussy) October 21, 2020
These are not feel good stories. https://t.co/A6kpM23nAq

— Summar D. McGee (@Summar_McGee) October 20, 2020
this is not a triumphant story, its disheartening asf https://t.co/CcCnsZN0ap

— olivia rubini (@oliviarubini) October 20, 2020
The Daily Dot has reached out to the Detroit Department of Elections.
The post 'This is not a feel-good story': People are upset after 94-year-old who had to travel 300 miles to vote goes viral appeared first on The Daily Dot.
Read more: dailydot.com