Click Here And Get This Posted To YOU In PDF Format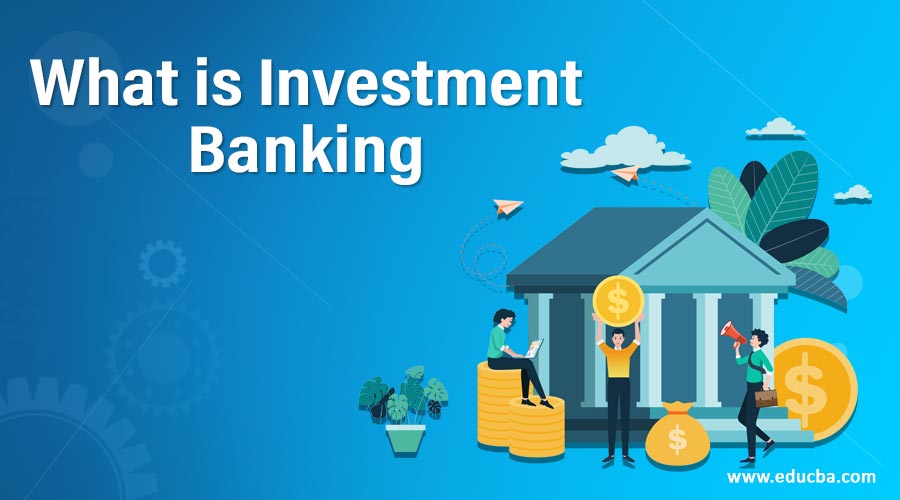 Introduction to Investment Banking
Investment Banking is a financial service company or division of a bank that provides advisory services to government, individuals, and corporations in relation to underwriting, capital raising, merger, and acquisition, etc. It acts as a bridge between companies (who need investment to run and grow their business) and investors (who want to invest their funds in the market).
Explanation of Investment Banking
Investment Bank acts as a full–service organization and provides a number of services to their customers like equity research, market–making, asset management, derivatives trading and FICC services (fixed income instruments, currencies, and commodities), whereas investment banking department of a bank only provides underwriting and M&A( merger and acquisition) services.
There are two types of Investment Banking services, namely "Sell–side" and "Buy–side". In Sell–side, services regarding the trading of equity, derivatives, promotion of securities, etc. are provided and in Buy–Side advisory services to firms who are interested in buying the investment like insurance firms, Pension funds, etc. are provided.
Role and Objectives of Investment Banking
Following are the role and Objective are given below:
Role
Investment Banks serve as an intermediary between investors and corporations. It helps corporations by pricing securities resulting in maximization of revenue. Investment banks help their clients in meeting regulatory requirements while raising capital as well.
When companies issue IPO, an investment bank may buy all the shares from the company and will sell it in the market as a proxy company. It helps the company in contracting out the IPO to the investment bank itself. It provides advisory services in relation to underwriting services and mergers and acquisitions.
Objectives
In the past, the primary objective of investment banking was to bridge the gap between investors and corporations, individuals, government bodies who needed funds to grow and run their business.
But nowadays, there is no defined limit on the activities that fall in the purview of investment banking. Apart from underwriting and merger & acquisition-related advisory services, investment banks also provide different kinds of ancillary services to their clients like equity trading, market-making, facilitation of transactions, derivative trading, assistance in the analysis of risk associating with managing big projects.
Types of Investment Banking
Below are the different types of investment banking division or investment banks.
Regional Boutique: Smaller in size, they deal with not more than a dozen customers and specializes in a single area.
Elite Boutique: They are similar to bulge bracket banks and provide high–value deals, have multiple offices in the country, but do not have a global presence like bulge bracket banks.
Middle Market: They deal between $50 m to $500m, have a larger presence than regional boutique division, and do not have a global presence.
Bulge Bracket: They are multinational investment banking firms. These banks deal with large clients and deals; they have a global presence and recognizable name, and also have offices across the globe.
Examples of Investment banking
Some examples of Investment banking divisions or banks having global presence are as follows:
Goldman Sachs
J P Morgan Chase
Deutsche Bank
Barclays Investment Bank
Bank of America
Structure of Investment Banking
Investment banking divisions are mainly divided into three levels.
Front Office: People in this division face customers directly. It is a revenue-generating division. Activities include advisory services on merger & acquisitions, underwriting, trading, and research service.
Middle Office: People in this division are responsible for information technology and risk management related services.
Back Office: Back office staff deals with customer services, human resources, office management, staff payroll, etc.
Functions of Investment Banking
Functions of the Investment Banking industry are as follows.
Acts as an intermediary between investors and the company.
It helps companies in raising capital.
Provide advisory services for underwriting and merger & acquisition.
Provide ancillary services like equity, derivative trading, facilitating transactions, market-making, promotion of securities, etc.
Importance of Investment Banking
In a growing economy where all the companies want to raise capital through stock and shares, Investment Bank with their expertise helps these companies by providing underwriting services, so that businesses can maximize their revenue while staying within the regulatory requirement.
They provide other ancillary advisory services as well to their clients. Therefore, in a nutshell, these organizations play a pivot role by helping corporate, individuals, and government bodies.
With their expertise, they help in the growth of the local, national, and the global economy as a whole.
Investment Banking Vs Private Equity
It is an advisory service for capital raising and merger & acquisitions while private equity is the investment of funds collected from wealthy individuals, pension funds, insurance companies, etc.
In other words, private equity is investing activity while investment banking majorly includes advisory services. They both do help in capital raising for investment, but private equity takes funds from high net worth individuals or companies, while investment banking tries to raise the capital from the market.
Advantages and Disadvantages
Some of the advantages and disadvantages are given below:
Advantages
Investment banking division with its expertise handles their client's project most efficiently, help them in raising capital by maximizing their revenue, creating their brand value in the long run.
It helps their client in managing large projects, by identifying the risk associated with the projects beforehand, thus saving time.
They also provide advisory services to their clients in relation to the restructuring of the business, so that business can become more efficient and maximize its profit.
Disadvantages
It is one of the divisions of the bank, and it can create a conflict of interest with other divisions like equity research and trading, which can lead to manipulation of the market.
It has also been condemned on hefty pay packages that this industry offers to its people.
It is said that Investment banking divisions are more interested in making hefty money through their fee charges, while they do not provide high–quality products and services to their clients.
Conclusion
From the above discussion, we can conclude that Investment Banking is an integral part of the global economy. Investment Banking personnel with their expert help in the growth of the economy and provide a number of services to their clients. Though there are some limitations, the pros in this case specifically are overshadowing all the cons.
Recommended Articles
This is a guide to What is Investment Banking. Here we also discuss the role and objective of investment banking along with advantages and disadvantages. You may also have a look at the following articles to learn more –
Investment Banking vs Private Equity
Career in Investment Banking
Investment Banking Jobs
Q&A on Investment Banking topics
The post What is Investment Banking? appeared first on EDUCBA.
Read more: educba.com